Project date – 2017
Project Aims
This innovative virtual project aimed to facilitate three very diverse community groups within the area of Hamilton West station to produce a hand-crafted Totem Pole without the groups ever meeting.
Project details
Under Rail 74 Community Rail Partnership, this was the first of many projects we aimed to encourage through South Lanarkshire – In partnership with Clydesdale Community Initiative (CCI), art sessions (4x2hr) were offered to St Elizabeth's Primary school, children aged 9 to 11 years to explore themes and design the pole. Workshop sessions (3x2hr) were offered to Blue Triangle (young Homeless unit) ages 16 to 25 years at CCI premises in Lanark and further workshop sessions (3x2hr) were offered to patients from Beckford Lodge (Forensic Mental Health) to complete the project. Throughout the creation of the Totem Pole a digital diary was recorded; the process of design, why particular themes were chosen etc, workshop sessions, wood preparation & carving, as well as comments from participants regards creating the structure for public appreciation. A poster of the digital diary is displayed on the station platform opposite the Totem pole. The Totem Pole has been sited in the landscaped triangle on the opposite station platform to the ticket office in September 2017.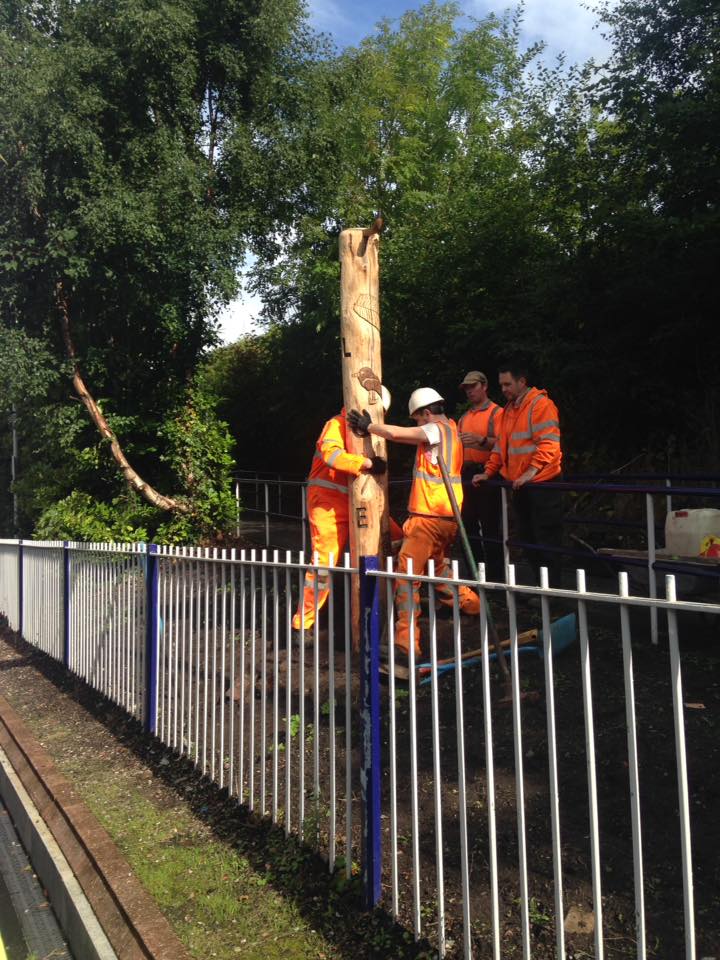 The project started in late April 2017 with the concept design by the children from St Elizabeth's Primary coached, helped and supported by one of our CRP members and teacher Christine Emmett and CCI support staff. Due to the vulnerability of the groups, the initiative is being completed over various stages, and the young people from Blue Triangle (assisted by Ed Morrison, assistant manager and Hayley Cameron, Manager of the homeless unit) and patients from Beckford Lodge (guided by Maureen Black, Advanced Practitioner Occupational Therapist for the Forensic Mental Health team and Vice Chair of Rail74 CRP) have been busy carving over a three-week period to make these drawing come to life. This is providing them with the opportunity to develop their woodwork skills, learn about using and maintaining tools and working and operating safely – Bringing together the expert skills and advice from a local Social Enterprise, Clydesdale Community Initiatives they have been invaluable in terms of hospitality and coaching.
The totem poles have now been completed and installed in late September 2017 with a collaboration of the digital diary to tell the story of this amazing journey which shows such an imaginative and engaging completion to the virtual working partnership – a network that they have created through regular meetings at the CRP, funds to make it happen and vision/determination to see it through.
Project outcomes –
Enhancing tourism, leisure, and visitor offerings
Promoting access to education and skills opportunities
Developing community goodwill and involvement with the local railway
An award winning submission from ACORPS  (Support organsation for community rail throughout the UK)